This is "the rest of the story" since Gov. Palin signed my prosthesis back in October. I actually heard about and joined Team Sarah when I found
Tracey's" post
about Gov. Palin autographing my leg.
I meant to write this much sooner, but have been buried under a pile of Christmas presents to sew for family until just a couple of days ago.
Last month, I sent Gov. Palin a package containing a clipping of the letter I wrote to the paper, a personal letter of thanks and support, and two sock monkeys I'd made for Piper and Trig.
A week after it arrived at her office, my mom came in waving an envelope and saying she thought I'd heard back from Gov. Palin. Here's what it contained: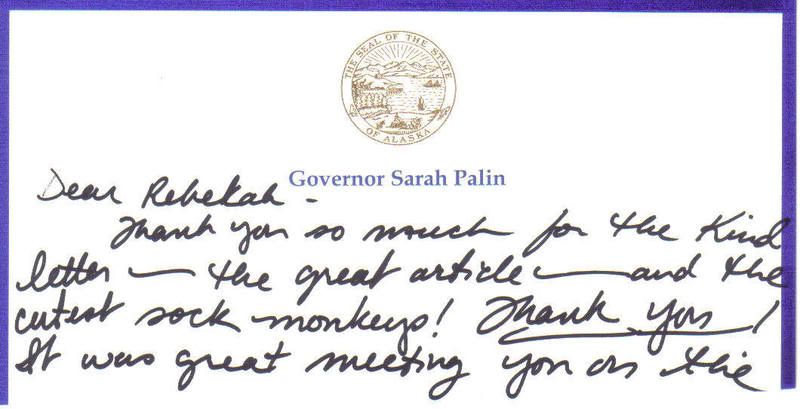 Just another example (as if we needed any!) of what a wonderful, thoughtful, and kind lady Sarah Palin is. She's so very gracious that honestly I wasn't so much surprised to receive a thank you as I was surprised by how quickly she sent one.
These are the two sock monkeys, by the way. I was making them for kids in the family already (shhh, don't tell!) and thought, what's two more? The one on the left is Trig's.